The Mohawk Valley Region
The Counties of Oneida, Herkimer, Otsego, Fulton, Montgomery, Schoharie, and Saratoga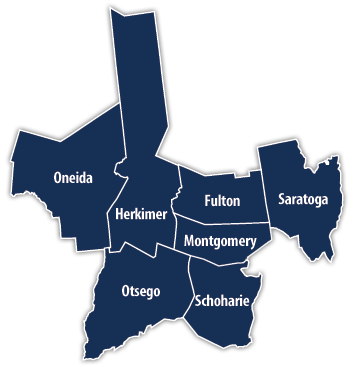 The Mohawk Valley Region is a fascinating mosaic of historic, natural, and cultural treasures offering endless leisure, learning, and family recreation for its residents and domestic and international visitors.

Central New York's Mohawk Valley Region covers seven counties with nearly 200 communities and upwards of one million residents. All share and celebrate a distinguished history.

The Mohawk River corridor through the center of the region is the easiest, most direct route between the Atlantic seaboard and heartland America. This key geographic passage was hotly-contested territory, and a huge factor in shaping the history of our American nation from earliest times.
The Mohawk Valley Region is the ancestral homeland of the Native American Iroquois Confederacy. It became a French and Indian war zone in the epic collision of European nations seeking a "New World" position and influence. One third of all American Revolutionary War battles were fought in New York State—half in the Mohawk Valley Region. Struggles at Oriskany and Fort Stanwix set the stage for the monumental "turning point" battle at Saratoga that shifted the course of the Revolutionary War toward American victory.
The legendary Erie Canal, a technological wonder of its era, was built here taking advantage of the convenient path nature carved through the eastern mountain range to construct a more modern transportation waterway. This reinforced national ambitions, expansion of America's western frontier, and the westward spread of eager settlers, commerce, and the Industrial Revolution. Construction of the New York Central Railroad and New York State's I-90 Thruway followed. Millions of people now wend their way through this picturesque landscape year-round.
---